CHALLENGE GROUP'S WEEK 6 NEWS ROUNDUP
Court Theatre – Sophie's recount
Last week we were visited by three members of The Court Theatre who performed a play which was about the Maori Gods and Maui who thought he deserved to become a god. He was told that he must kill a large eel which was the last monster left undefeated and then he would be worthy to be a god.
The Court Theatre used some costumes, props and music to compliment the story. They really put energy, humour and excitement into the legend and I would think that everyone in the room enjoyed the performance.
Here is a link to the website with more information about the show we saw. https://courttheatre.org.nz/whats-on/o-le-malaga-faaatua/ 
Thank you, Court Theatre for sharing your play and I hope you come back again!
Matthew would like to add =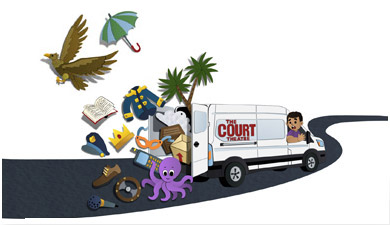 The Court Theatre visited our school last week and performed a play about the gods and Maui who wanted to become a god. Using costumes, props, song and the audience they told the story about Tuna the eel and how Maui defeated him.
The play was easy to watch, it was funny and everyone enjoyed it very much. The actors made the story come alive and I am looking forward to the Court Theatres next visit.
TECHNOLOGY NEWS:
Technology classes are onto the fourth rotation at Rangiora Borough School, which has the Year 7 students learning digital design with Mr Ballingall, and the Year 8 students in the workshop with with Mr Bain for woodwork. We get to choose from all 4 subjects for the final block and everyone is hoping to get their first choice.We interviewed two students to see how they find Technology.
Matthew interviewed Isla from Year 8, and Ryan from Year 7 to ask about Tech.
What do you like most about technology? Which subject will you choose for the final block?
Ryan commented on how helpful he finds the technology teachers. He enjoys making different things and is hoping to choose woodwork for the final block when all the students get to choose which subject they do.
Isla is hoping to be able to choose soft fabrics as sewing is her favourite class although she has also enjoyed food technology too. 
Sophie: Cans for Good.
The school council members decided to take part in a fundraiser called Cans for Good which collects cans of food for the Salvation Army to help support food parcels going to the hungry people in Christchurch and local towns. Even pet food is acceptable as many people have pets they need to feed.
We decided to interview Ella I (one of the school councillors taking part in the fundraiser), with a few questions to ask about the project.
How many cans were collected? "163 were collected/donated in total."
How many cans did the council aim to collect? "300."
Did the amount of cans collected satisfy your goal? "No it didn't but we were happy that it was at least one can per child in our school."
Do you wish to do this again in the future? "Yes, it was a very good effort at helping with a whole school donation to a worthy foundation, and I hope the future school council continue it."
Thank you Ella for answering our questions, it seems as though the contributors might have not reached their goal but are still happy with the number they have come down with, thank you to everyone who donated cans.
Couper: Weekend sports round-up. Weather: Terrible
Firstly it is off to the rugby with Mitchell from Year 6. 
He said: "It was a bitter and sour day, but it was a fun game for the first half until they stopped running around and it became very cold for them. Everyone was cold, dirty and wishing they could be at home with a nice hot shower.  The game was Ashley vs Glenmark Cheviot at Woodend. The final score ended up being 17-5 to Ashley RFC."
Over to the football now, firstly Maddy said:
"On Saturday we played at English Park on the artificial turf. It was freezing cold and almost hailing.
We were tied 0/0 in the first half and then they scored three goals against us and the second half we lost 3/0.  At the end we went into the club rooms and I won a football signed by Canterbury Pride team, for winning Player of the Day. Overall it was a great game but it would have been better in the mud."
Then finally Amber said:
"It was a freezing cold morning but I managed to score 3 goals. Our team played at Kendall Park on Saturday where we usually play games every weekend. We played against the Nomad team but mixed up the teams because the Nomads forfeited." 
Everyone said that overall the day was a crap day for sports but a fun one. Not all of us won but we had a great time. We all tried our hardest and worked hard. But we would rather have done it in the warm…