OUR STUDENT COUNCILLORS AT WORLD VISION YOUTH LEADERS
World Vision Youth Conference – Christchurch, New Zealand.
Members of the School Council attended the World Vision Junior Youth Conference on the 13th of May. This was at the Revolution Church in Christchurch. World Vision is a world wide organization to help problems with poverty, hunger and climate change in the world. World Vision shows people their vision of the future.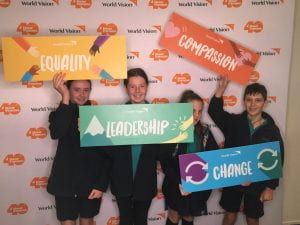 Alyssa started it off as the main speaker and told us how our world is beautiful but broken. To show us that the world is unfair we played a fishing game. We had to sit around a pond with other schools and try and catch fish. Every pond had a different amount because some places get more food than others, and we didn't even get a pond. We think it was because some people have no food at all.
Alyssa taught us that some people have food insecurity meaning that they don't know when the next meal will be.
After morning tea Alyssa brought Jess and Luke up. Jess told us that in Malawi you can only eat what you grow and you sell what you don't eat. 
After this Luke shared with us a chicken story about Udon and his family. Udon is a boy in Malawi who was sponsored by Luke and his family. After a few months of being sponsored, Udon's family had enough money to buy a chicken. This chicken laid eggs for them to eat. Udon's family then sold the eggs and with that money they bought a cow. Now they have milk to drink and sell. With that money they bought a motorbike to get into the city so that father could get a better job. Now their whole community is out of poverty.
The guest speaker was Lydia Holliste-Jones who moved to Cambodia to help survivors of slave labour. Lydia saw at least two people who had survived slavery a week, she listened to all of their stories and helped them get through the trauma they had experienced.
At the very end Laylani from World Vision taught us an equation to help us change the world. Problem+Action+Leadership = A Solution.
We think that World Vision is an amazing organization to help people who need that extra support. This conference has helped us believe that we can do anything. We are going to share our knowledge with the school about ways to help people in need.
Holly, Hunter, Maisie and Sophia.